Helpful Tips:
Pretend you only have 2 hours a day to work.What 3-5 things would you do during those 2 hours a day? Once you know what those are – then delegate or stop doing everything else that you currently do. And start doing only those 3-5 things all day, every day.By simply doing this exercise entrepreneurs will learn what matters most. The key is then just doing it.
Get the right things in front of you visually. You are mostly driven by the visual, so make sure you are looking at the important stuff vs. that email on your Blackberry telling you how you won the Nigerian lottery again! Keep your goals & strategies visible.
Do Nothing for 10mins each day – just watch the world go by! That's when solutions to problems become blindingly obvious. That's when you get new ideas. It's called inspiration – and it arrives when your mind is still. When you're still, your mind is fully focused on what's important.

Kris Mathis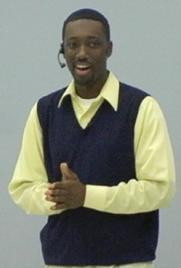 There are plenty of motivational speakers out there. Very few are as dedicated as Kris Mathis from Teaching Kids Success.
Here's a brief overview of Kris' story.
Kris was born and raised in one of the most poverty stricken neighborhoods in Grand Rapids, Michigan. Kris' father left when he was four years old for a life of drugs and crime.  Not having much, his mother got by the best she could feeding herself and two children. Also having some help from his grandparents.
By Kris' teen years he was very connected in drugs, gangs, and violence. He spent a good portion of his time in the streets with thugs and drug dealers. Learning and watching how the street business and street justice was conducted.
At 16 years old, he had a friend who was murdered in street violence. That still wasn't enough to get him to begin the change of turning his life around.
At 17 years old, he had his second life changing experience. And this time it was able to make an impact. Kris was almost shot one night leaving a nightclub. He watched the guy in front of him get hit with the shot and begin to fall to the ground. At this point that was the beginning of God's message to him to begin turning his life around or he would be next!
Kris was not happy with his life and some of the decisions he had made in his life. He knew that after all the wrong he'd done that there's got to be another way of getting ahead in life.
After a few life changing experiences and the school of hard knocks. Kris had finally found his way!
Kris Mathis has come from the poverty stricken bottom and rose above the odds! He has been very successful in business and has also proved he can compete in the business world with the best of them! Kris has reached levels of success in business that were all once a dream to him. Now he is living his true passion in life as a motivational speaker. He has become an expert in the craft of self-improvement and living your dream in life for youth and adults!
Teaching Kids Success has received attention from a number of media stations, including News 8, News 13, WGVU, and Wood radio. There was also an article written in the G.R. Press on Kris' story, and he has also been featured on the T.V. show Newsmakers. The media has spotlighted his programs and success for the work his organization is doing in the Grand Rapids community.
Kris reaches out to his community and gives back not only financially, but with something much more important…….his time and knowledge.
He devotes a lot of his time and knowledge to youth and adults throughout the community. He gives motivational speeches to young and old in schools and events all over. Kris Mathis has definitely come a long way from the lost youth he once was.
Check out what some have had to say about his work:
"I heartily endorse him as a motivational speaker and caring person."
-Catherine Blodgett-Central High School
"Thank you so much for everything you shared today and for allowing me to share something that I have always been ashamed to talk about……"
-Sophia-Student
"I highly recommend Kris and the methodology he uses to help students redirect their life choices."
-Cheryl Spencer-Gerald R. Ford Middle School
Kris now stands on the front lines for helping youth by being a proud member of the Grand Rapids Chamber of Commerce. Plus he serves as a member of the steering committee to the Grand Rapids Youth Commission and to a number of advisory boards and committees that help change the life of our kids.
Kris Mathis has learned from his mistakes in life and has dedicated himself to youth and helping them not make the same mistakes he made. He does motivational speaking all over now telling young people about his mistakes and how to succeed in life and business.
With the struggles that a lot of our youth are going through, Kris is able to relate. Even though being an adult, he's young enough to understand and relate, yet old enough to know better.
Kris Mathis and his Teaching Kids Success organization are very interested in working with you and speaking at your next event!

Employ Kris Mathis to speak at your school or next event today!

Giving Kids a 2nd Chance!
Motivational Speaking
Business Success Program
2nd Chance at Life Program
Kris Mathis – CEO
616-633-4939